Our current list of eight stocks was
unchanged
from last week. The eight in descending order by Market Cap are: Free McMoran (FCX), Netflix (NFLX), Apple (AAPL), Baidu (BIDU), Research in Motion (RIMM), Cognizant Technology Solutions (CTSH), Southwestern Energy (SWN), Intuitive Surgical (ISRG).
The
Screener
setup was as follows:

Free McMoran (FCX) is struggling below its 50-day MA. The stock closed the breakdown gap to $58 but was unable to make further gains. It subsequently drifted below its 50-day MA and is looking to mount a second challenge at $52.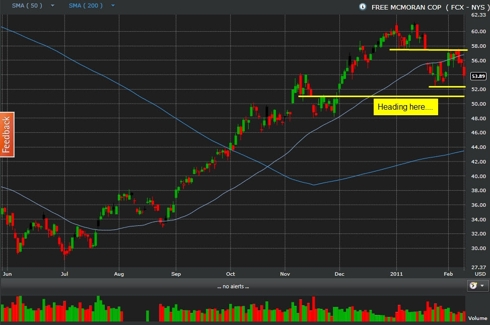 Last week's breakout Netflix (NFLX) was able to build off the gap and post a new closing high. There should be good demand below $210.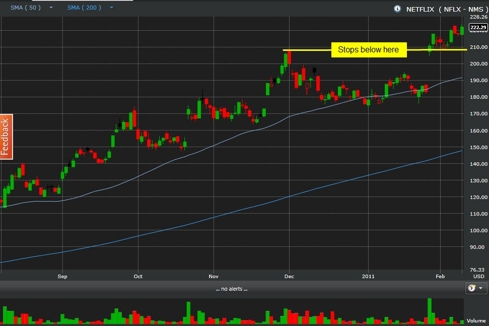 It was the same story for Baidu (BIDU). The breakout handily cleared $115 and should be strong support. Yesterday's push above $120 offers an alternative place for stops.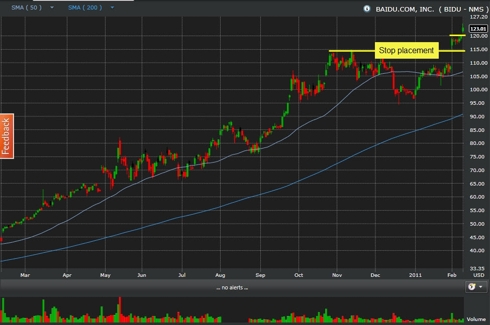 Apple (AAPL) pushed above $345, was able to attract money from the sidelines, and drove on to $358. Tests of the 50-day MA (currently at $331) are likely to provide entry opportunities. Use an Alert to track when Apple approaches to within 3% of its 50-day MA.

Research in Motion (RIMM) is range bound between $58 support and $66 resistance. On Wednesday's close it split the difference at $63.57.

Cognizant Technology Solutions (CTSH) has been hemmed in by $76 resistance and has the fast approaching 50-day MA at $72.91 to look too for support. This should see a test either today or Friday.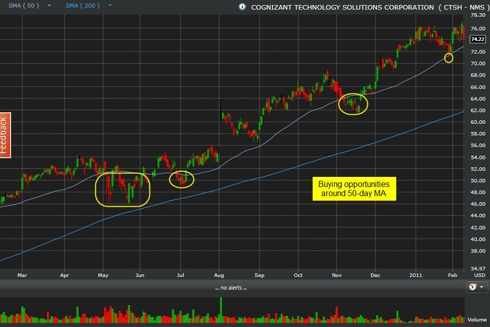 Southwestern Energy (SWN) trading at its 50-day MA after a recent 'Golden Cross' is struggling to hold above $39. Yesterday's sharp loss left it just above its 200-day MA at $37.00 but it looks like it wants to mount a challenge of $35.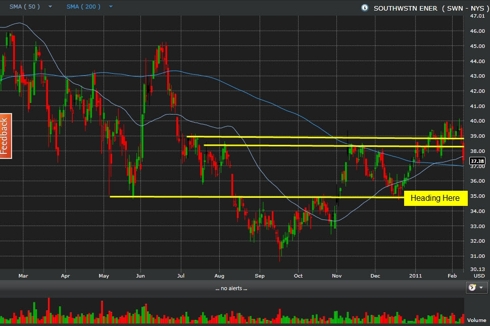 Intutitive Surgical (ISRG) has spent the past few weeks trading in a very narrow range of $321-$338. The fact it has done so off a $25 gap is quite impressive. Look for money to come in from the sidelines on a break of $340 and you can use an Alert to inform you when this happens.

Why not start your Zignals Trading Strategy Business with us today? Learn How to promote your Zignals Trading Business with Twitter.

Follow us on twitter here

Build a trading strategy in Zignals and potentially earn money too; download our Build a Trading Strategy PDF and get selling (and trading) today!



Dr. Declan Fallon, Senior Market Technician for Zignals.com, offers a range of stock trading strategies via his Zignals home page. Each Zignals member has an unique home page which they can share with friends and clients to sell their strategies.

Zignals offers a full suite of financial services including price and fundamental stock alerts, stock charts for Indian, Australian, Frankfurt, Euronext, UK, Ireland and Canadian stocks, tabbed stock quote watchlists, multi-currency portfolio manager, active stock screener with fundamental trading strategy support and trading system builder. Forex, precious metal and energy commodities too. Build your own trading system and sell your trading strategy in our MarketPlace to earn real cash. Read what others are saying about Zignals on Investimonials.com.
JOIN US TODAY - IT'S FREE!