For this week the Top-8 as ranked by Market Cap are Apple (AAPL), Vale S.A. (VALE), Free McMoran (FCX), Barrick Gold (ABX), Baidu (BIDU), Research in Motion (RIMM), Cognizant Technlogy (CTSH), and Intuitive Surgical (ISRG). The
Screener
setup was as follows:

Apple (AAPL) continues to hold the 50-day MA, but hasn't excluded the possibility of a head-and-shoulder reversal.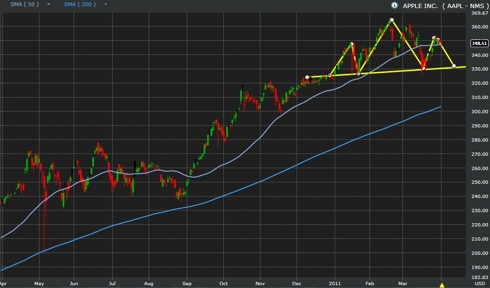 Vale S.A. (VALE) continues to advance towards its 50-day MA which sits at $33.86. Should see it tested over the coming days.

Free McMoran (FCX) is a step ahead of Vale S.A. (VALE) having already pushed beyond its 50-day MA. Stops can go on a break of $51.70.

Barrick Gold Corporation (ABX) is trading inside a consolidation. This will end when the stock breaks above $53.00 or drops below $48.00 (and/or 200-day MA). The 50-day MA has ticked higher, aligning the intermediate trend back in the bulls favour.

Baidu (BIDU) has enjoyed a stellar advance, brushing off the prior period of market weakness and moving to new multiple year highs. Illustrated are two potential resistance levels for rising channels (and upside targets).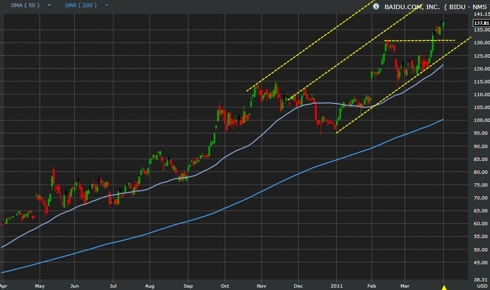 Cognizant Technology Solutions (CTSH) also performed strongly the past week. It bear trapped when it gapped below $74 but subsequently recovered to drive past $78. A couple of tight trading days sets up a swing trade opportunity with momentum favouring a continuation of the advance.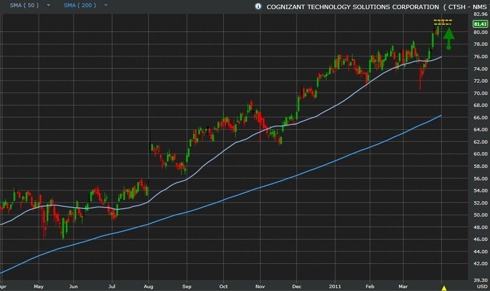 Research in Motion (RIMM) had a rough week. Gapping from its 50-day MA down to its 200-day MA. Prospects don't look great but bulls will need the 200-day MA to stick as support, otherwise $44 beckons.

Intuitive Surgical (ISRG) has spent the past couple of months defending its breakaway gap. It has now started to rise alongside its 50-day MA and will soon be pressuring the last reaction high at $345.27. Another good play for bulls.



Why not start your Zignals Trading Strategy Business with us today? Learn How to promote your Zignals Trading Business with Twitter.

Follow us on twitter here

Build a trading strategy in Zignals and potentially earn money too; download our Build a Trading Strategy PDF and get selling (and trading) today!

Dr. Declan Fallon, Senior Market Technician for Zignals.com, offers a range of stock trading strategies via his Zignals home page. Each Zignals member has an unique home page which they can share with friends and clients to sell their strategies.

Zignals offers a full suite of financial services including price and fundamental stock alerts, stock charts for Indian, Australian, Frankfurt, Euronext, UK, Ireland and Canadian stocks, tabbed stock quote watchlists, multi-currency portfolio manager, active stock screener with fundamental trading strategy support and trading system builder. Forex, precious metal and energy commodities too. Build your own trading system and sell your trading strategy in our MarketPlace to earn real cash. Read what others are saying about Zignals on Investimonials.com.