Another week with no change. The
Top-8
as ranked by Market Cap remain Apple (AAPL), Vale S.A. (VALE), Barrick Gold (ABX), Free McMoran (FCX), Baidu (BIDU), Research in Motion (RIMM), Cognizant Technlogy (CTSH), and Intuitive Surgical (ISRG). The
Screener
setup was as follows:

The past week has seen a fine recovery. The aforementioned stocks having performed well in general.
Apple (AAPL) has reached an important battleground at its 50-day MA. Since the advance from March 2009 lows there haven't been too many break-and-tests of this key moving average. In the past it hasn't taken long for Apple to re-establish itself above this moving average. Whatever happens, $325 must be defended on any rebuttal.
Last week's head-and-shoulder reversal
is still in play - if this is true then don't look for much past $350.
Vale S.A. (VALE) continues to work off its 200-day MA. Closed weaker yesterday, but is caught in the no-mans land between 50-day and 200-day MAs.

Barick Gold (ABX) didn't test-and-break the 200-day MA as I suspected it would. The past week has seen a rally back to $53 as this stock morphs into a triangle trading pattern. Projected upside target of $62 when triangle resistance breaks; trail stop on downside break of consolidation.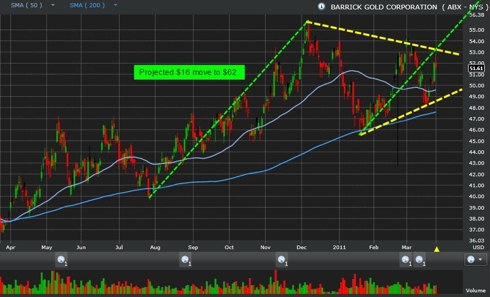 Free McMoran (FCX) didn't stall at its 50-day MA, clean breaking on heavier volume and easing back yesterday on lighter volume. Next test at $57.25.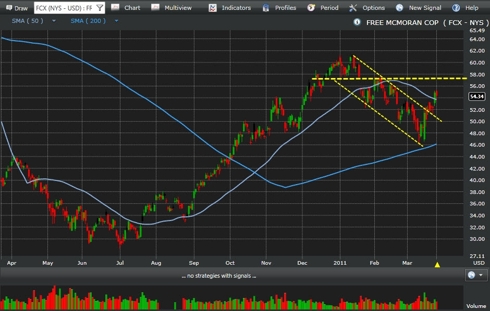 Baidu (BIDU) blew through the supply gap and potential bear flag on higher volume accumulation. New support at $130. The push effectively confirms the $110/5 breakout gap as true. Higher prices ahead. A stop can be trailed on a break of the supporting trendline from December's low.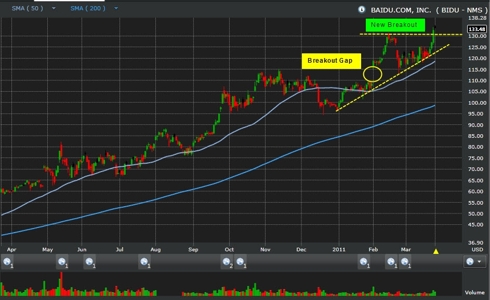 Research in Motion (RIMM) has recovered to its 50-day MA, finishing bang on the moving average yesterday. The test of the 200-day MA never came and even managed a higher low. But the stock has lost the momentum from September's low and is range bound by what looks to be a $60-70 range.

Cognizant Technology Solutions (CTSH) has powered to a new high. Support should become established at $78. Project the trendline forward for buying opportunities (trail stop).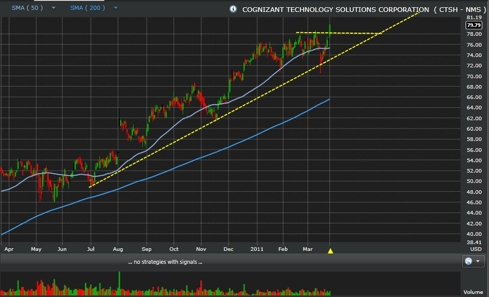 Finally, Intuitive Surgical (ISRG) was able to use its 50-day MA to protect against any further incursion into its substantial breakout gap. Looking good going forward.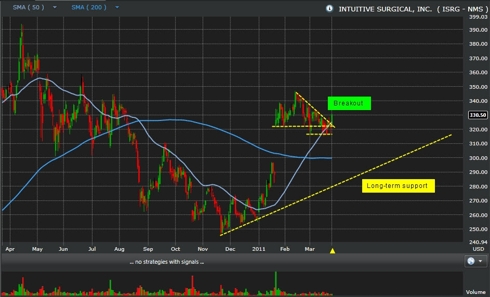 Why not start your Zignals Trading Strategy Business with us today? Learn How to promote your Zignals Trading Business with Twitter.
Follow us on twitter here
Build a trading strategy in Zignals and potentially earn money too; download our Build a Trading Strategy PDF and get selling (and trading) today!
Dr. Declan Fallon, Senior Market Technician for Zignals.com, offers a range of stock trading strategies via his Zignals home page. Each Zignals member has an unique home page which they can share with friends and clients to sell their strategies.
Zignals offers a full suite of financial services including price and fundamental stock alerts, stock charts for Indian, Australian, Frankfurt, Euronext, UK, Ireland and Canadian stocks, tabbed stock quote watchlists, multi-currency portfolio manager, active stock screener with fundamental trading strategy support and trading system builder. Forex, precious metal and energy commodities too. Build your own trading system and sell your trading strategy in our MarketPlace to earn real cash. Read what others are saying about Zignals on Investimonials.com.