There was no change on the stocks from last week. The
Top-8
remain Apple (AAPL), Vale S.A. (VALE), Barrick Gold (ABX), Free McMoran (FCX), Baidu (BIDU), Research in Motion (RIMM), Cognizant Technlogy (CTSH), and Intuitive Surgical (ISRG). The
Screener
setup was as follows:

The selling which followed the tsunami in Japan put understandable pressure on stocks.

Apple (AAPL) was one of the hardest hit. It lost trendline support and its 50-day MA on higher volume distribution. The Steve Jobs health sell-off in January was another period of distribution in the $330-350 zone. From a technical perspective it will be important $330 support holds - although this time it's on the wrong side of its 50-day MA. There is also a possibility for a head-and-shoulder reversal if the next bounce stalls around $350.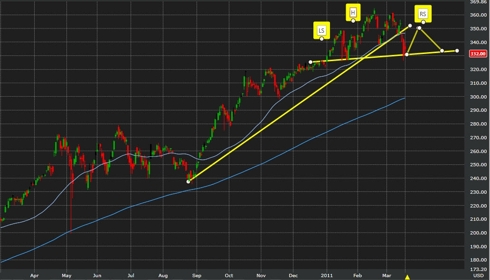 Vale S.A. (VALE) made it back to its 200-day MA where it offered picture perfect support. The question for it now is what can it do with it. The sharp downturn in the 50-day MA suggests a rocky road ahead, especially given the stock is trading in the no-mans land between its 50-day and 200-day MAs. Risk measured on loss of $31.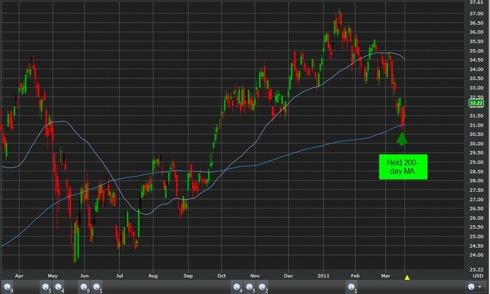 Barrick Gold (ABX) has a chart which offers a probable outlook for Vale S.A. (VALE). The January test of the 200-day MA followed with a push above its 50-day MA. It has since dropped below its 50-day MA and is only a few points off another test of its 200-day MA - a test which is more likely to fail.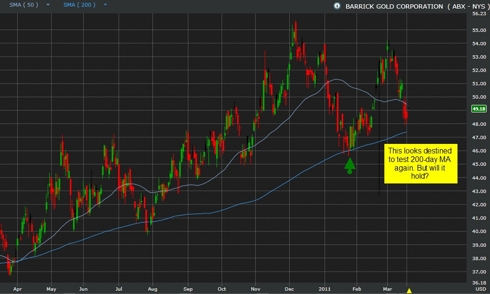 Free McMoran (FCX) has enjoyed a stronger push higher, doing so before it completed a touch on its 200-day MA. The fast declining 50-day MA just above $54 is its likely next test.

Baidu (BIDU) has so far managed to defend $115 and is creeping higher. The 50-day MA sits above $115 and will be the first text on the next decline. The stock is trading in a relatively congested zone between $115 and $125. Given the recent high at $131.63 it looks like BIDU is experiencing controlled distribution. So a defense of the 50-day MA is key going forward.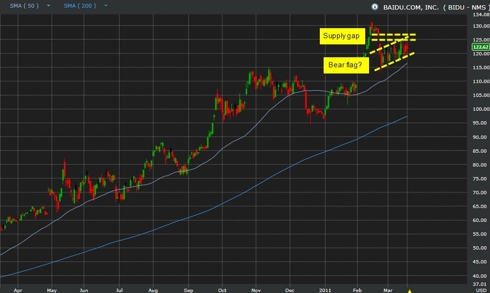 Research in Motion (RIMM) clean sliced its 50-day MA and is heading towards its 200-day MA. There is support at $58 with an intraday overshoot down to the 200-day MA (just above $56) a decent possibility. Little to add at this point.

Cognizant Technology Solutions (CTSH) finally lost its 50-day MA after a steady advance, but it did defend trendline support. The question is what will it do now it has recovered losses back to its 50-day MA.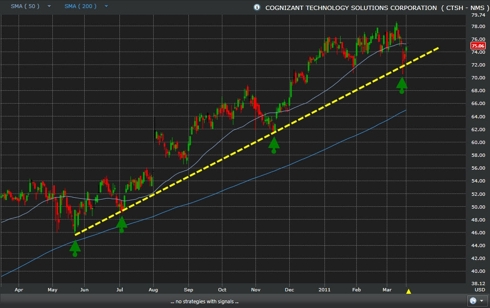 Finally, Intuitive Surgical is poised at its 50-day MA which is bang on critical $320 support. The large breakout gap remains and subsequent trading volume suggests buyers hold the edge. If $320 (and therefore its 50-day MA) was to fail, then a swift move back to the 200-day MA at $300 is likely.



Why not start your Zignals Trading Strategy Business with us today? Learn How to promote your Zignals Trading Business with Twitter.

Follow us on twitter here

Build a trading strategy in Zignals and potentially earn money too; download our Build a Trading Strategy PDF and get selling (and trading) today!

Dr. Declan Fallon, Senior Market Technician for Zignals.com, offers a range of stock trading strategies via his Zignals home page. Each Zignals member has an unique home page which they can share with friends and clients to sell their strategies.

Zignals offers a full suite of financial services including price and fundamental stock alerts, stock charts for Indian, Australian, Frankfurt, Euronext, UK, Ireland and Canadian stocks, tabbed stock quote watchlists, multi-currency portfolio manager, active stock screener with fundamental trading strategy support and trading system builder. Forex, precious metal and energy commodities too. Build your own trading system and sell your trading strategy in our MarketPlace to earn real cash. Read what others are saying about Zignals on Investimonials.com.