There was no change on the stocks from last week with the
Top-8
holding rank. These are: Apple (AAPL), Vale S.A. (VALE), Barrick Gold (ABX), Free McMoran (FCX), Baidu (BIDU), Research in Motion (RIMM), Cognizant Technlogy (CTSH), and Intuitive Surgical (ISRG). The
Screener
setup was as follows:

Markets are taking a beating today after a sluggish week, so it's more of a case of seeing which stocks are holding support, particularly 50-day MAs.
Apple (AAPL) is the enternal survivor and has so far defended trend and 50-day MA support. How long can it hold if other stocks go south?
Vale S.A. (VALE) had already been repelled by its 50-day MA last week and has shown no desire to make another assault. The bearish head-and-shoulder pattern is also playing out too. Look for test of 200-day MA down at $30.83.

Barrick Gold (ABX) eased back from the challenge of $54, before dropping sharply back to its 50-day MA as of today. The 200-day MA isn't too far away at $47.18, which might help it in the long run. Prior tests of the 200-day MA in January of this year, July, May and April of last year, were all successful.

Free McMoran (FCX) continued its push back towards its 200-day MA. The 50-day MA is already trending down which means it will be harder for Free McMoran to regain the rally which sustained it for the latter part of 2010. The 200-day MA test at $45.11 looks inevitable.

Baidu (BIDU) has expanded on its consolidation from last week. Moving from a pennant into a broader triangle consolidation. Support at $114 holds.




Research in Motion (RIMM) hasn't been able to leverage it's low key advance. Today saw a break of 50-day MA support with the 200-day MA next at $56.32.

For Cognizant Technology Solutions Corp (CTSH) it has been business as usual. The stock has the best chart of all the eight stocks; slight losses today but the 50-day MA is available for support.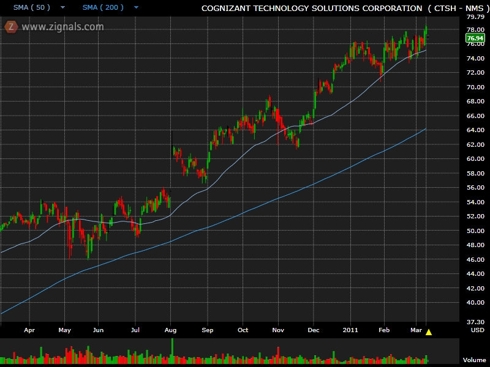 Finally, Inuitive Surgical (ISRG) has seen little change, despite the broad selling in stocks today. The breakout gap is very strong.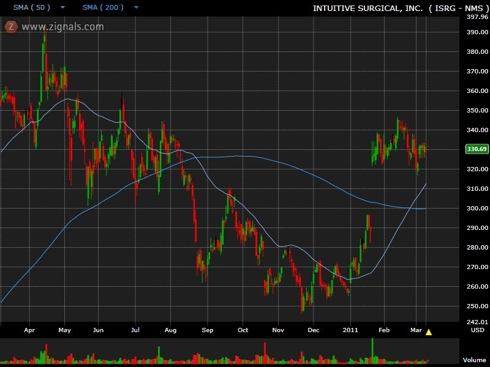 So while there are stocks suffering, there are still a few which are bucking the trend. Intuitive Surgical (ISRG), Apple (AAPL) and Cognizant Technology Solutions Corp (CTSH) are all holding up well and look best of the bunch here.

Why not start your Zignals Trading Strategy Business with us today?

Learn How to promote your Zignals Trading Business with Twitter.

Follow us on twitter here

Build a trading strategy in Zignals and potentially earn money too; download our Build a Trading Strategy PDF and get selling (and trading) today!


Dr. Declan Fallon, Senior Market Technician for Zignals.com, offers a range of stock trading strategies via his Zignals home page. Each Zignals member has an unique home page which they can share with friends and clients to sell their strategies.

Zignals offers a full suite of financial services including price and fundamental stock alerts, stock charts for Indian, Australian, Frankfurt, Euronext, UK, Ireland and Canadian stocks, tabbed stock quote watchlists, multi-currency portfolio manager, active stock screener with fundamental trading strategy support and trading system builder. Forex, precious metal and energy commodities too. Build your own trading system and sell your trading strategy in our MarketPlace to earn real cash. Read what others are saying about Zignals on Investimonials.com.

JOIN US TODAY - IT'S FREE!