This week's
pattern
comes from Progressive (PGR). The sequence is built off a mild bearish day, followed by two bearish days, then two neutral days.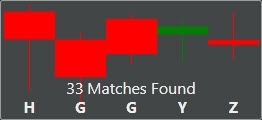 The pattern performed strongest on the second day after the pattern, although at the Strong Match there was a low number of matches.
Match
No. of
Patterns
1-day
% Win
2-day
% Win
5-day
% Win
Average Return
Per Trade (> 5 day)
Weakest
165
55
60
57
5.4
Weak
62
59
66
60
4.7
Neutral
33
58
77
70
6.0
Strong
8
40
90
70
4.1
Strongest
0
n/a
n/a
n/a
n/a
Despite the strong outlook over the second and fifth day of the pattern, the picture over the longer term was more mixed. The Average Return Per Trade (Average Return Per Trade assumes an initial stop of 10%, raised to 5% off the price reached on a 15% gain. Ultimate Profit Target of 25%) didn't exhibit a consistent return on increasing Match. Over the basket of 18 U.S. stocks the Average Return ranged from 4.1% to 6.0%.

However, despite the inconsistent Average Return Per Trade the win percentage remained consistently high, ranging from 75-82%. So while a handful of outsized losses brought down the Average Return it's a regular winner.

Running a Market Scan at a Neutral Match returned 12 matches. One of the 12 stocks was Mattel (MAT), a stock which recently enjoyed a breakout. Is this pattern a good omen going forward?


Why not start your Zignals Trading Strategy Business with us today? Learn How to promote your Zignals Trading Business with Twitter.
Follow us on twitter here
Build a trading strategy in Zignals and potentially earn money too; download our Build a Trading Strategy PDF and get selling (and trading) today!
Dr. Declan Fallon, Senior Market Technician for Zignals.com, offers a range of stock trading strategies via his Zignals home page. Each Zignals member has an unique home page which they can share with friends and clients to sell their strategies.
Zignals offers a full suite of financial services including price and fundamental stock alerts, stock charts for Indian, Australian, Frankfurt, Euronext, UK, Ireland and Canadian stocks, tabbed stock quote watchlists, multi-currency portfolio manager, active stock screener with fundamental trading strategy support and trading system builder. Forex, precious metal and energy commodities too. Build your own trading system and sell your trading strategy in our MarketPlace to earn real cash. Read what others are saying about Zignals on Investimonials.com.