In this weekly look of our Active Screen we will look to track a Zignals version of William O'Neill's CANSLIM Method. The article will look to build a list of review stocks which meet the fundamental criteria of the CANSLIM methodology. When you "Create a Fundamental System", the results of your scan will be delivered to you by email. This week's scan returned 43 candidates, which stock tops the pile?
What does CANSLIM stand for? "C" is for Current Earnings and looks for growth of 25% in the most recent quarter, "A" is for Annual Earnings and should be up 25% over the last three years with a Return of Equity of 17% or more, "N" is for New Product or Service, "S" is for Supply and Demand and is typically measured by Trading Volume, "L" is for Leadership - relative to an index, "I" is for Institutional Sponsorship and is tracked by Accumulation/Distribtuion and "M" is for Market indices, i.e. invest in the direction of the Market.
The Screener settings to be used here are:





When you have created a screen you need to save it. After Saving, the [Create Fundamental System] button will become active. Click this and give your system a name. This name will be assigned to a stocklist which will contain the results of your screen. Results are automatically updated and are displayed beneath the Screener settings.

The top-8 stocks, ranked by 5-yr Revenue Growth Rate are:





Top of the list was Trina Solar (TSL), followed by Entropic Communications (ENTR), Diversifax (GFRE) and Advanced Battery Technologies (ABAT).

Of the charts, ABAT has managed to break from a $3.80-4.20 handle in a steady advance off $3.10 lows. ENTR is nicely consolidating around $9.00 with support at $7.50. GFRE having dashed from a low of $6.50 in September to a peak at $11.00 in early November has coiled around $10.50 (but is trading at $10.16 in early morning trading - is it breaking down?). TSL is toying with support at $22 but is well off its high, despite topping the 5-year Revenue Growth Rate.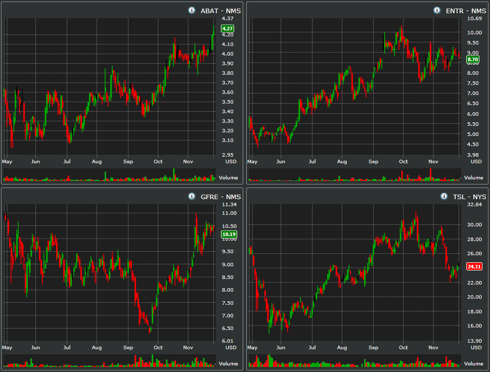 With Alerts, you can address the "S" in CANSLIM by building a volume Alert which will trigger whenever any of the stocks in your list trade on heavier volume.

Remember, when building an Alert on your CANSLIM screen you need to select for the stock list under Fundamental System name from the Stocklist menu.

From there, when you get a volume Alert for a stock from the CANSLIM screen you can check it's performance in Charts, compare it to an index and view accumulation/distribution. Alternatively, you view all stocks in your Fundamental System list by selecting your stocklist in Charts Multiview.

Happy Hunting!

Why not start your Zignals Trading Strategy Business with us today? Learn How to promote your Zignals Trading Business with Twitter.

Follow us on twitter here How to Get Started with Zignals Build a trading strategy in Zignals and potentially earn money too; download our Build a Trading Strategy PDF and get selling (and trading) today!

Dr. Declan Fallon, Senior Market Technician for Zignals.com, offers a range of stock trading strategies via his Zignals home page. Each Zignals member has an unique home page which they can share with friends and clients to sell their strategies. Zignals offers a full suite of financial services including price and fundamental stock alerts, stock charts for Indian, Australian, Frankfurt, Euronext, UK, Ireland and Canadian stocks, tabbed stock quote watchlists, multi-currency portfolio manager, active stock screener with fundamental trading strategy support and trading system builder. Forex, precious metal and energy commodities too. Build your own trading system and sell your trading strategy in our MarketPlace to earn real cash. Read what others are saying about Zignals on Investimonials.com. JOIN US TODAY - IT'S FREE!