This week's rare
pattern
appeared in Baidu (BIDU). At a neutral Match setting the pattern was found only 28 times from 18 stocks over the past year. It opens with a strong bullish day and is followed by a sequence of three bearish days before finishing with a modest bullish day. It is similar in appearance to the more
commonly known "Rising Three Method" continuation pattern
.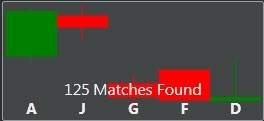 It had an interesting dynamic between short term, and trade performance. Short term performance improved as the match conditions tightened, but the long(er) term trade performance - as measured by Average Return per Trade (Average Return per Trade applies an initial stop of 10%, raised to 5% off the price reached on a 15% gain. Ultimate Profit Target of 25%) - fell.
Match
No. of
Patterns
1-day
% Win
2-day
% Win
5-day
% Win
Average Return
Per Trade (> 5 day)
Weakest
125
53
52
57
4.5
Weak
61
61
61
61
4.2
Neutral
28
64
67
66
3.9
Strong
6
83
83
83
2.6
Strongest
4
75
75
75
4.8
Unlike some of the former PatternDNA patterns we have featured, this particular one offered the most at the Weak match. Ordinarily, the Strong match tends to be the sweet spot for a particular pattern, but given the low sample size it's hard to be convinced on merit here. Also, at the Strong match, only half of the potential trades were profitable, compared to 61% at the Weak match (data not shown) - hence the higher Average Return per Trade.

Baidu (BIDU) was one such stock with this pattern, but at the Weak Match there were 81 matches in the S&P and just 12 at the Neutral Match.

One of the stocks in question was Chubb Corporation (CB). Chubb made a solid breakout in the middle of April and held those gains as the market headed south. It is nicely positioned to take advantage of the bullish implications of this pattern.




Learn more about PatternDNA in this video:





Why not start your Zignals Trading Strategy Business with us today? Learn How to promote your Zignals Trading Business with Twitter.

Follow us on twitter here

Build a trading strategy in Zignals and potentially earn money too; download our Build a Trading Strategy PDF and get selling (and trading) today!

Dr. Declan Fallon, Senior Market Technician for Zignals.com, offers a range of stock trading strategies via his Zignals home page. Each Zignals member has an unique home page which they can share with friends and clients to sell their strategies.

Zignals offers a full suite of financial services including price and fundamental stock alerts, stock charts for Indian, Australian, Frankfurt, Euronext, UK, Ireland and Canadian stocks, tabbed stock quote watchlists, multi-currency portfolio manager, active stock screener with fundamental trading strategy support and trading system builder. Forex, precious metal and energy commodities too. Build your own trading system and sell your trading strategy in our MarketPlace to earn real cash. Read what others are saying about Zignals on Investimonials.com.